Fabius Constable & Celtic Harp Orchestra
Breaking the boundaries of classical harp music
Fabius Constable is one of the most appreciated modern harpists worldwide. In 2002 Fabius has founded the Celtic Harp Orchestra. His experimental technique, a fusion of Celtic, classical, and South American genres, unexpected tones of percussion and vocals, breaks the boundaries of classical music and enchant audiences.
Fabius Constable and the Celtic harp Orchestra played all around Europe and Asia at notable events and venues, such as Rome Auditorium, The Trinity College of Dublin, Naples Conservatory of Music, Duomo Cathedral in Milan, french festival "Recontres Internationales de Harpe Celtique" in Dinan, "Rio Harp Festival" in Madrid, the Auditorium Agnelli in Tokyo, Xebio Arena in Sendai (Japan) and many others.
The program "Luna Shine for Me" is a mesmerizing journey through time and cultures, inspired by the Moon. Venetian and Italian atmospheres vibrantly dance together with the rhythm of Celtic music and Argentinian tango. The program features Italian classics, original compositions, and innovative rearrangements of Verdi, Tchaikovsky, and Vivaldi that create magic and unique soundscape.
The latest project of Fabius is Epic Cinematic with Sound Alchemy Orchestra. This is an orchestral mix of classical, ethnic, and rock instruments that take the audience on a musical journey through the world of epic and fantasy soundtracks from Games of Thrones, Lord of the Rings, Braveheart, The Hobbits, Harry Potter, Never Ending Story and many more.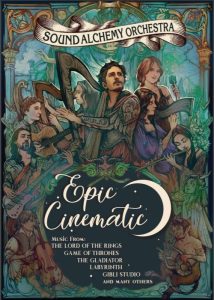 Tours
February  22  | Basilica Sant'Andrea, Vecelli, Italy
January  18  | Tearto Civico, Tortona, Italy
January  4  | Villa Bernasconi, Cernobbio, Italy
January  3  | Cineteatro della Rosa, Albavilla, Italy
August 2   | Auditorium Agnelli, Tokyo, Japan
July 12   | Villa Borromeo, Varese, Italy
June 28  | Rio Harp Festival,  Rome, Italy
June 26  | Rio Harp Festival,  Milan, Italy
June 20  | Rio Harp Festival – Casa do Brasil, Madrid, Spain
April 20  | International Harp Festival, Madrid, Spain
February  17  | Lurate Town Hall, Como, Italy
February  15  | Lurate Town Hall, Lurate Caccivio, Italy
February  10  | Lurate Town Hall, Como, Italy
February  2  | Adro Auditorium, Adro, Italy
"Music gives a soul to the universe, wings to the mind, flight to the imagination and life to everything." ~ Plato